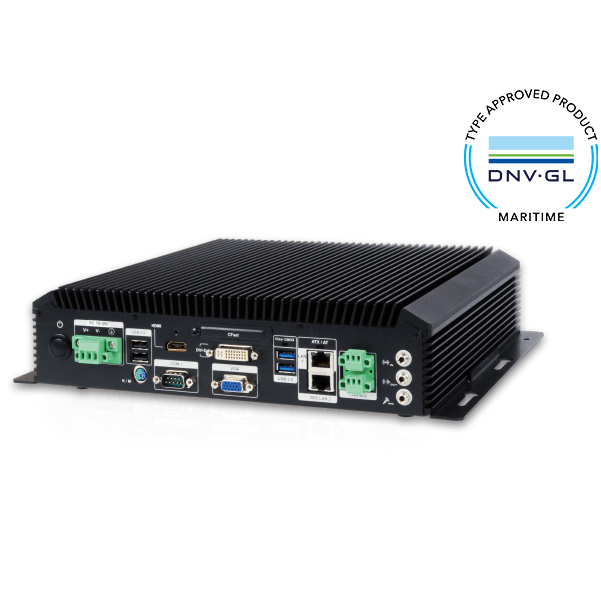 » Fanless marine computer with 4th Generation Intel® Core™ i5 dual-core processor
» -15°C ~ +55°C wide temperature
» Isolation protection
4 x RS-232/422/485 isolated serial ports
Isolated 18 V~36 V DC input
2 x Isolated CAN-bus 2.0B
» 2 x 2.5" SSD bay with RAID 0/1 function
» Supports IEI iRIS-2400 (IPMI 2.0 compliant)
IEI Marine Computer Series
Overview
The maritime field faces critical environmental challenges, making reliable and rugged systems essential. IEI provides maritime professionals and marine-grade panel PCs and monitors and embedded box that use leading technologies and reliable designs which are perfect for applications on the dock, on the open deck, or in the control room or bridge.

---
Dynamic Position System (DPS)
Dynamic Positioning System (DPS) is a closed-loop control system. It is driven by the control system of the ship to counteract the environmental forces to the ship, such as wind, waves and ocean currents. This mechanism could make ship remain in the position on the sea. DPS precisely calculates the propellant force by continuously monitoring the ship position deviation and analyzing the natural forces which could affect ship's navigation direction. This process could make the ship remain in the correct position and maintain the right direction. DPS is commonly used at various marine applications, such as subsea engineering work, underwater salvage, marine resources survey, marine engineering lifting, marine engineering umbilical laying, deep diving support, underwater engineering operations and marine engineering comprehensive test. DPS consists of measurement systems, control systems, power systems and propulsion systems, and other components. DPS possesses many functions which include maintaining the specified location, targeting, automatic searching for the bow position, turning point tracking, ROV automatic tracking, changing the center of rotation, automatic navigation, parallel movement and other functions.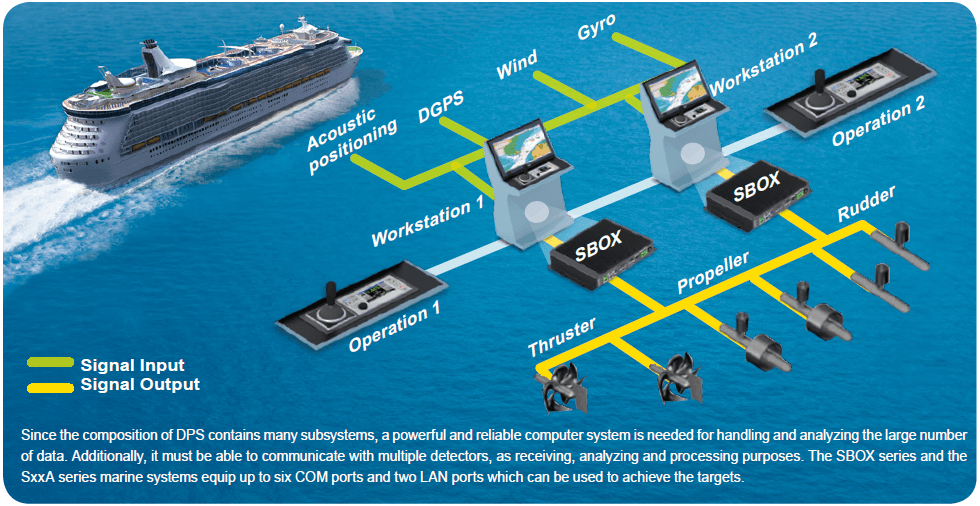 ---
Electronic Chart Display and Information System (ECDIS)
The bridge system usually needs to collect and analyze many observation data, including anemometer stations, speed logs, weather stations and GPS signal. In order to precisely observe the changing walruses, the sensors are usually located at the top of ship or in the open deck. Therefore, with the long distance communication, these signals and communication paths should all follow specific regulation such as NEMA 0813. There are large amounts of data received at bridge, and they should be carefully processed and precisely analyzed. A powerful and reliable embedded box or panel PC is necessary for this task. IEI marine embedded box, the SBOX series, equips up to six COM ports which can be used to synchronously handle a large amount of data. The system of ship bridge consists of many sub-systems, which includes navigation system, path control system, radar system, etc. Most of them usually have dual system in order to prevent the failure of primary system. Additionally, dual system could also appear the identical information such as sea chart to the captain and pilot simultaneously. In practical application, dual or more LAN ports are necessary for connecting and controlling multiple monitors. The SBOX series and the S24A/ S19A series contain six ports and two LAN ports to fulfill the requirements mentioned above.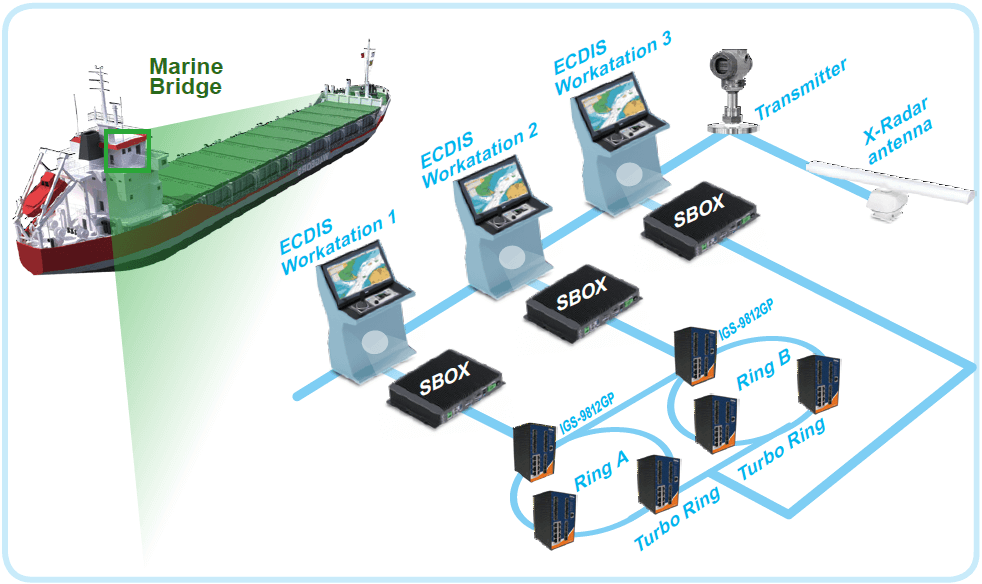 ---
Intel® Core™ i5 High Performance Computing Power in a Fanless Design
IEI's high performance marine solutions are built with the powerful Intel® Core™ i5 CPU within a fanless system architecture. No matter your applications are general marine system management, monitoring or conning systems, radar systems, or ECDIS navigation, IEI's marine computers will give you the most stability than ever. The three simultaneously independent displays are supported via the on-board video output combinations of VGA, DVI and HDMI. This versatile combination of display output options make the marine system ideal for multi-monitor required applications in the bridge room.
• Improved CPU performance with Intel® 22nm 4th Generation Mobile Core™ i5-4400E 2.7 GHz processor
• Two 204-pin 1600/1333MHz dual-channel DDR3 SDRAM support up to 16 GB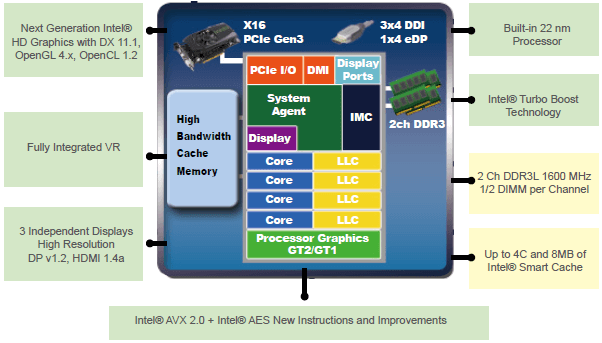 Fanless design
With IEI's fanless solutions, your vessels can avoid the bothersome of replacement of fan, increasing safety and efficiency for the crew and the entire ship. Three independent aluminum heat sinks help the heat dissipate averagely, and help the system efficiently achieve wide operating temperature range between -15°C~55°C.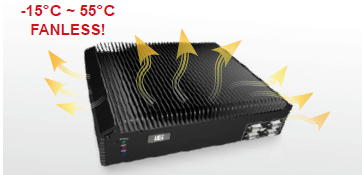 ---
3 independent displays: HDMI, DVI, and VGA
The three simultaneously independent displays are supported via the on-board video output combinations of VGA, DVI and HDMI. This versatile combination of display output options make the marine system ideal for multi-monitor required applications in the bridge room.

---
Multiple Isolated Ports for Comprehensive Protection against Electrical Surges
Ground loop and electric surges are common in the marine applications of electronic products due to the dense placement of devices. These stray electrical signals can cause equipment damage or malfunction.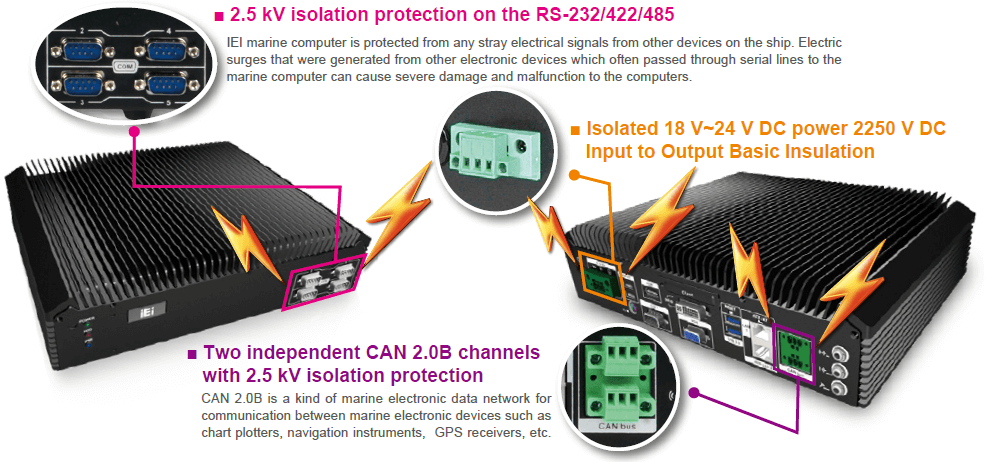 ---
IEI Remote Intelligent Management System
The marine computer supports IEI iRIS remote management solution which helps users to manage multiple devices through single management interface and elevates work efficiency. The iRIS solution only requires a module and Internet connection!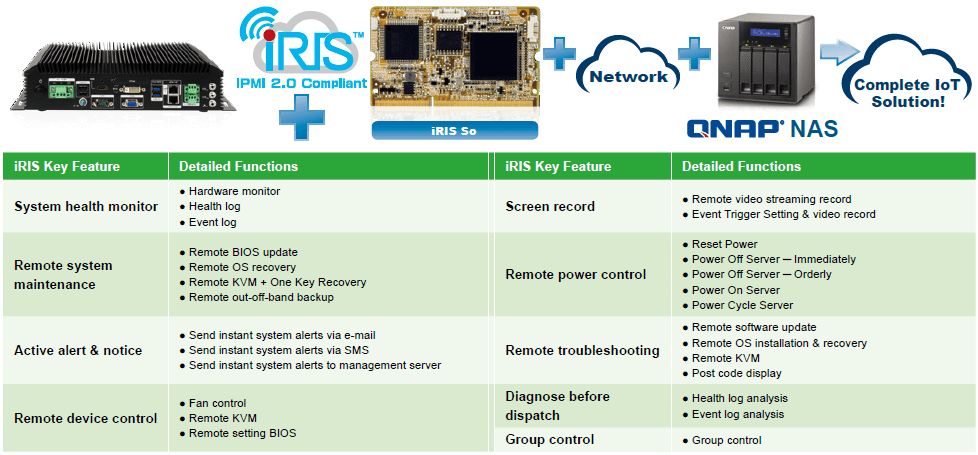 ---
IEI Marine Series Video | Marine panel PC & embedded system
---
Discover IEI on the AIR - Marine Computer : SBOX Series
It is difficult to send out technical support for maritime field application due to the location limitation. The way to solve the urgent issue is remote troubleshooting with IEI iRIS solution. IEI marine-grade solutions provide the most convinent method of real-time system alert notice and repair function through iRIS solution to make customer's equipment more reliable and durable in critical environment.
---

---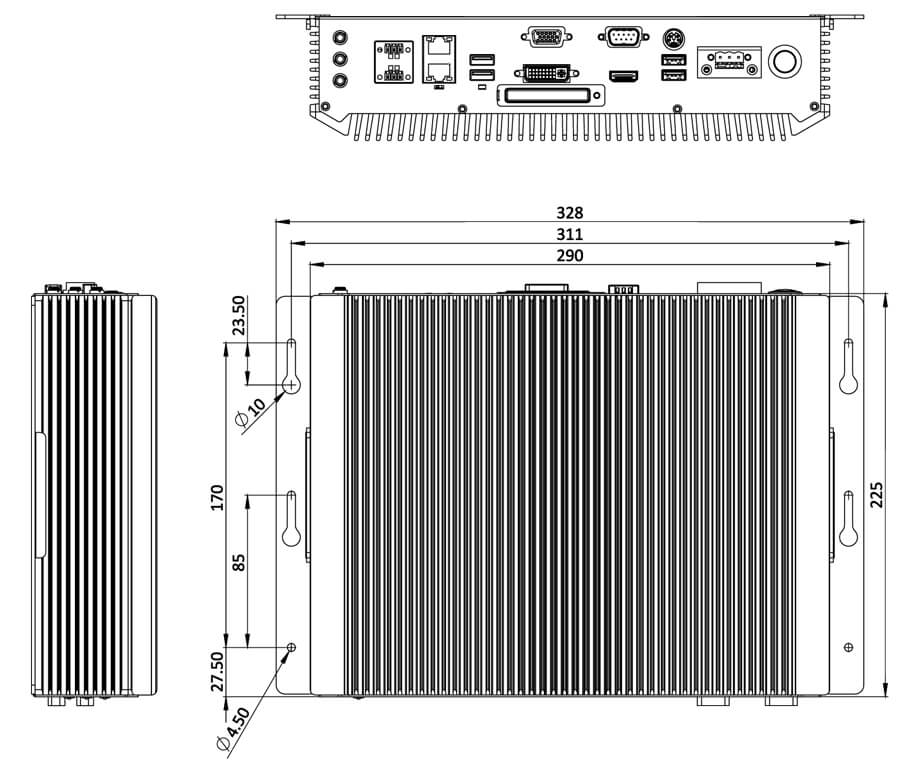 Form factor
SBC Form Factor
CPU: Intel® mobile Core™ i5-4400E (2.7 GHz, 37W)
Chipset: Intel® QM87
System Memory: 2 x 204-pin DDR3 SO-DIMM slot
(system max. 16 GB)
Pre-installed 4 GB DDR3 SO-DIMM
I/O Interface
I/O Ports
1 x PS2 (KB/MS)
2 x USB3.0
2 x USB2.0
2 x RJ-45 with teaming support
1 x PCIe GbE by Intel® I217LM
1 x PCIe GbE by Intel® I210-AT
(2 with 2 kV isolation)
1 x DB-9 (non-isolated)
4 x RS-232/422/485 (with 2.5 kV isolation)
2 x CAN-bus (with 2.5 kV isolation)
1 x VGA
1 x DVI-D
1 x HDMI
1 x Line-out, 1 x Line-in, 1 x Mic-in
2 x Antenna SMA hole (reserved)
Expansion Slots
Expansion Slots
2 x Full size
System
Cooling method / System Fan
Fanless
Drive Bays
2 x 2.5" SATA 6Gb/s SSD bay with
RAID 0/1 function
Indicator&Buttons
Indicators
Power (power on: green, power off: orange),
storage (red, blinking), IPMI (blue)
Color
Color
Black
Dimensions
Dimensions
290 x 75 x 225
Weight
Weight
4.08 kg / 6.03 kg
Environment
Operating Temperature
-15°C ~ 55°C with air flow
Humidity
5% ~ 95%, non-condensing
| | |
| --- | --- |
| SBOX-100-QM87i-i5/4G-R10 | Fanless marine computer with Intel® Mobile Core™ i5-4400E 2.7GHz Processor ,DDR3 4GB, iRIS-2400 supported, isolated 18~36V DC, R10 |
Package Content

1 x User manual

1 x PS/2 cable

1 x Rubber pad & screw pack
---